HOW IT WORKS
Run Location-based Ad Campaigns in 4 Easy Steps
Learn How GroundTruth Ads Manager Works
Take a tour of our Location Manager
Set your campaign goals and select from our suite of targeting tactics.
Target by location: Reach users based on their current location and/or user visitation patterns to particular places.
Target by audience: Reach users based on their visitation behaviors and custom audience groups.
Target by weather: Reach users based on the weather conditions in their current location.
*Note: Targeting tactics available vary depending on the device type selected.
Select the device type you would like to reach your audience on.
Target Mobile Devices: Reach your audience wherever they are.
Target Desktop & Laptops: Reach your audience at home or in the office.
Target CTV (Connected TVs): Reach your audience while they are relaxing in front of the large screen.
Target OTT Devices: Reach your audience while they are streaming content on OTT devices including phone, tablet, desktop, and CTV.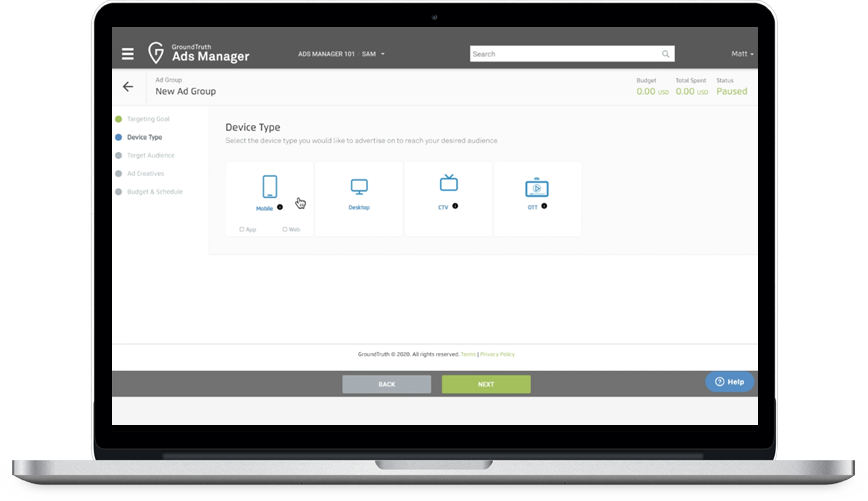 Upload Your Ad and Build Creatives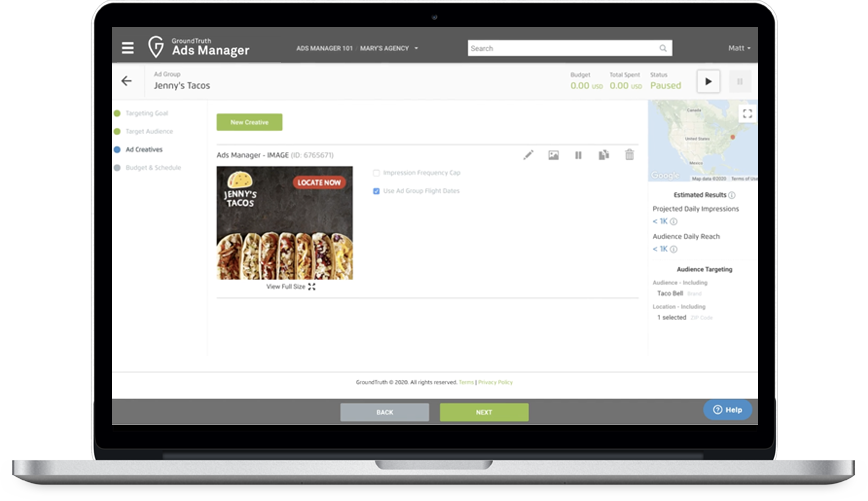 Easily upload and build your own ad creative. Creative features in Ads Manager include.
Dynamic text overlay directing the users to your nearest store location.
Script creatives: Input a script tag from a 3rd party creative provider.
Video: Distribute video ad creative by inputting a VAST tag from a 3rd party creative provider.
Build landing pages the user will view after clicking an ad creative.
How to Effectively Drive Customers to Location-Based Landing Pages.
Sure-Fire Creative Best Practices for Better Mobile Campaigns.
Identify budget at the campaign or ad group level.
Minimum bid starts at $3.50 with no minimum budget.
Set flight dates for campaign start and end dates.
Set day parting based on the timezone of the advertised location (optional).
Save and launch!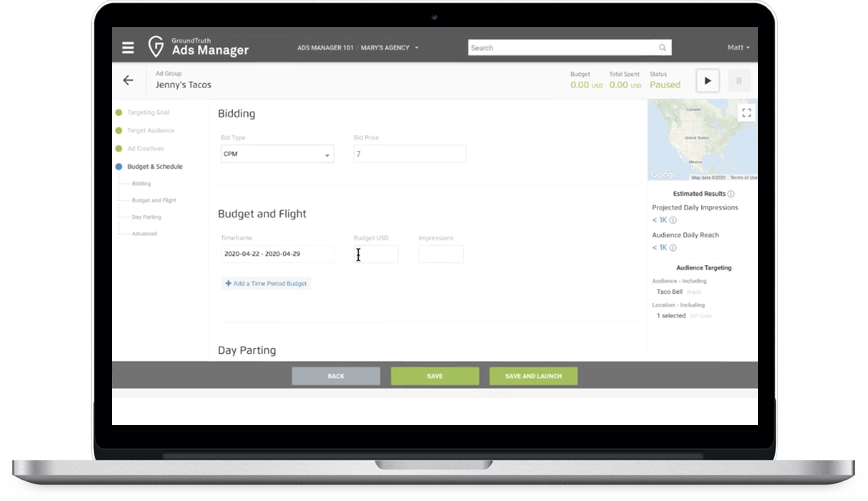 Launch Campaign and Measure Results
Measure in-store visits from ad spend and analyze campaign results in real-time using robust Ads Manager reports.
Summary Report.
Store Visit Report.
Incremental Visit Report.
Time of Day/ Day of Week Visit Report.
Audience Insights Report.
Reporting by Product.
Video Quartile Reporting.
See what location can do for you
Contact our ad experts to answer your questions and help you achieve your marketing goals.
Sign Up for our Newsletters
Stay on top of the latest industry insights and marketing strategies.