MEDICAL & HEALTHCARE INDUSTRY
Medical & Healthcare Marketing Platform
Communicate the latest and greatest in terms of health and wellness with your core audiences in the right moments.
As health continues to be top of consumers' minds, leading with relevant and localized information is more important than ever before. Information, offerings, and solutions that prioritize wellness, safety, and convenience are key in helping consumers make key decisions about their healthcare. Lean into location-based marketing solutions to more effectively and accurately reach the right audiences.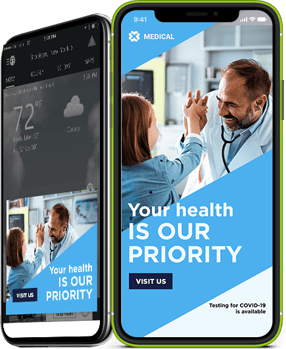 Tactics to drive results for your medical practice
Top tips for running successful campaigns in Ads Manager.

Build awareness of your offerings by targeting unique geographical boundaries based on the combination of visitation patterns and audience segments, providing a scalable and custom mobile location marketing solution.

Behavioral Audience Targeting
Reach group segments like Healthcare Professionals with accuracy to build awareness about relevant offerings.

Leverage current location to precisely reach audiences near specific locations.
Omni-Channel: Reach Your Audience....
GroundTruth makes it easy to run integrated cross-channel marketing campaigns through a single platform.
Reach high-intent customers with display ads on their computers, mobile or tablets, or Connected TV devices.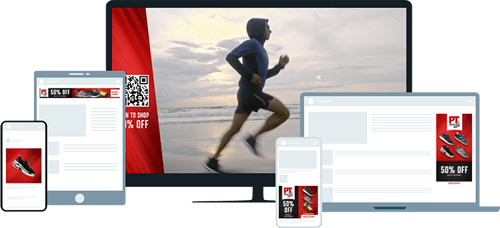 ..across Top Online Publishers
We deliver your ads on premium inventory that has been manually curated for brand safety and with fraud prevention solutions.
Why location is key for driving clients to your medical or healthcare practice
Reach high-intent customers with display ads on their computers, mobile or tablets, or Connected TV devices.
Growth in sales to
Health & Personal Care.

"Our healthcare client was struggling and needed new ideas to increase their daily patient volume. With the integration of GroundTruth's leading location-based digital marketing into an overall marketing plan, we've helped the client realize an increase of 258% in daily patient visits in less than six months. And most of that increase can be attributed to GroundTruth. The client couldn't be happier with the results."
See what location can do for you
Contact our ad experts to answer your questions and help you achieve your marketing goals.
Sign Up for our Newsletters
Stay on top of the latest location-based industry insights, marketing strategies, news, events, and announcements.